ultimate bet poker review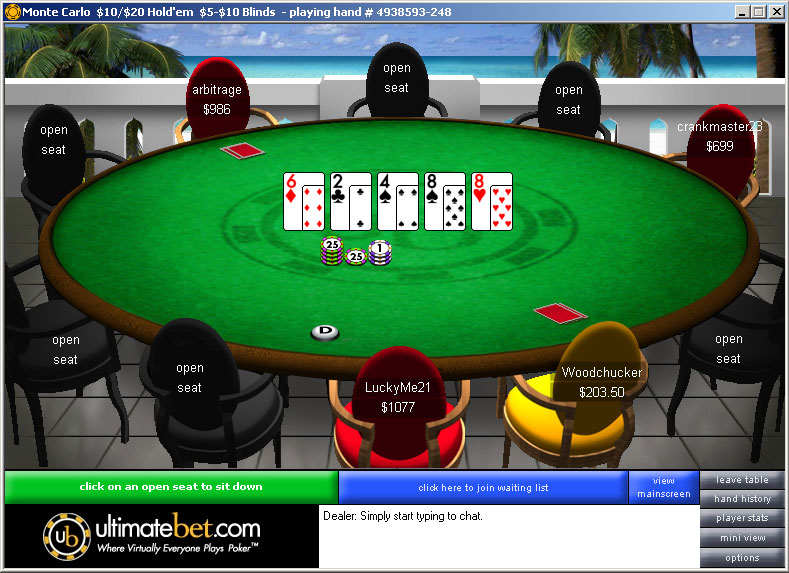 Overall Score:

4

/5
Software Score:

5

/5
Traffic Score:

3.5

/5
Tournaments Score:

4.5

/5
Soft Competition:

1.5

/5
Sign Up Bonus Score:

4

/5
Support Score:

4.5

/5
Deposit/Cash out Methods:

5

/5
Summary: Overall Score:

4/5
Ultimate Bet Poker is the home of some of the greats in the poker world, including Phil Helmuth, Antonio Esfandiari, Dave Ulliot and Annie Duke. Ultimate Bet is an excellent poker room that offers a generous bonus for signing up, and a fairly decent system for loyal players to earn rewards. Ultimate Bet has a strong physical appearance and offers an exciting variety of tournaments, qualifiers and promotions. The competitive softness is relatively tight, especially when it comes to medium and higher stakes games, but there are a large number of high stakes players which makes up for this relatively minor flaw. We are quite fond of the improvements that were forced into the software by Ultimate Bet, allowing this poker room to finally get back into the action with bigger competition tables. Most of the traffic at Ultimate Bet is concentrated on tables dedicated to Texas Hold'em, but this is not really a big deal, even to players looking for more of a variety. Ultimate Bet definitely deserves a recommendation if you are looking for good action in all stakes and sturdy bonuses for sign up, refer a friend and loyalty.
Hits
Misses

Endorsed by Poker Celebrities
Superb Mini-Tables
Excellent Lobby Improvements
Superb Graphics
High User Traffic
Triple Draw and Pineapple Support
Excellent E-mail Support
Friend Referral Rewards

No Live Chat Support or Telephone
Only Three Available Cash-Out Methods
Software: Overall Score:

5/5
In the past, the lobby software that Ultimate Bet utilized was poor quality at best. Luckily,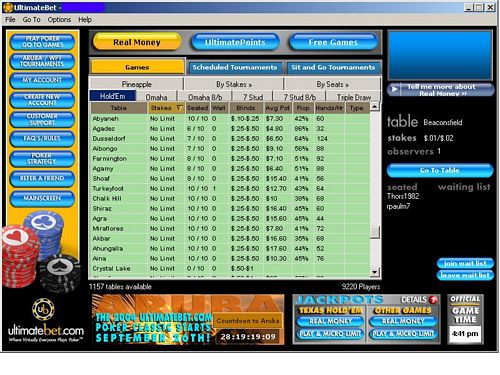 the complaints were taken seriously, and some seriously necessary improvements have come about. Ultimate Bet is much more than just your average poker room now, but has blossomed into truly state of the art software. However, Ultimate Bet is still significantly lacking when it comes to lobby filters, which is considered a serious set back since so many players are being accommodated. The poker tables are where the real excitement begins when it comes to this software. A 3D perspective captures the true feeling of real poker, and the mini table function is outstanding. There is also a buddy function, a plethora of different options and outstanding statistics as well. The only real miss here is that there isn't a numeric pot size counter in the full table.
Traffic: Overall Score:

4/5
is easily one of the largest online poker rooms on the internet right now, seeing as many as 25,000 simultaneous connections during peak hours. Approximately 40 percent of all connections are players interested in ring games, and the rest of the traffic is primarily tournament traffic. Most of Ultimate Bet's traffic is geared toward Texas Hold'em play, but it should also be relatively easy to find a good game of 7 Card Stud and Omaha as well. Ultimate Bet
Tournaments: Overall Score:

4.5/5
One of the most promising facets of the Ultimate Bet online poker room is their tournament schedule. Not only can you join the World Poker Tour and World Series of Poker qualifiers, but you can also get in on a lot more tough competition. There are numerous free rolls, but they require that you act fast if you want to get a spot in these tournaments before they are full up. There are also numerous multi table tournaments, which range from $1 buy ins to $200 buy ins. Check out Ultimate Bet's $3 buy in direct entry and entry chip satellites as well.
Game Variety: Overall Score:

4/5
The variety of games offered by is definitely well above the average offering. In addition to Texas Hold'em, which includes no limit and pot limit, you also have access to Omaha and Omaha Hi/Lo, 7 Card Stud and 7 Card Stud Hi/Lo, Triple Draw and Pineapple. Table stakes range significantly from micro games at $0.01/$0.02 to $150/$300 and more. Ultimate Bet
Soft Competition: Overall Score:


1.5/5
The competition at Ultimate Bet is relatively average. Approximately 40 percent of all
players view the flop in lower stakes games. In middle stakes games the percentage drops to approximately 35%. If you want softer play, there definitely are a number of rooms to choose from. There are fish here, but the competition is slightly tighter than what you will find at Pokerstars or Full Tilt.
Sign Up Bonus: Overall Score:

4/5
You can receive as much as 111% of your first time deposit bonus up to the first $1100. The minimum deposit amount that will receive this bonus is $25. You will receive $1 in bonus cash for every 10 raked hands that you play.
Loyalty Rewards: Overall Score:

4/5
If you are interested in becoming a regular at , you should learn about Ultimate Points. Every raked hand scores you one Ultimate Point or UP. In addition, you can earn up to one point per table, per hour. These points can be used for purchasing branded clothes and accessories, and also for getting you into special free roll tournaments. Ultimate Bet
Promotions: Overall Score:

4.5/5
Ultimate Bet has one of the best available refer a friend promotions out there. As soon as your friend adds $100 to his or her account, you receive $100 in your account. Your friend will also receive a bonus of $50 in his or her account. Ultimate Bet also offers bonuses to the top four hands every ninety minutes. Ultimate Bet launches multiple free rolls throughout the day, some of which are limited to depositors, and some of which are limited to non depositors as well. If you have an interest in playing at the World Poker Tour or the World Series of Poker, check out the qualifiers that are offered by the Ultimate Bet Online poker room.
Support: Overall Score:

4/5
The e-mail support offered by is definitely top notch, with some of the fastest response times in the entire online poker room industry. Some e-mails are answered and sent off within five minutes. Unfortunately, Ultimate Bet does not offer live chat support or telephone support which we feel could make necessary improvements. Ultimate Bet
Deposit and Cashout: Overall Score:

4/5

Deposit methods include credit card, Neteller, FirePay, Citadel, wire transfer, bank draft and check. Cashout methods include Neteller, FirePay and check.