Absolute Poker Room Review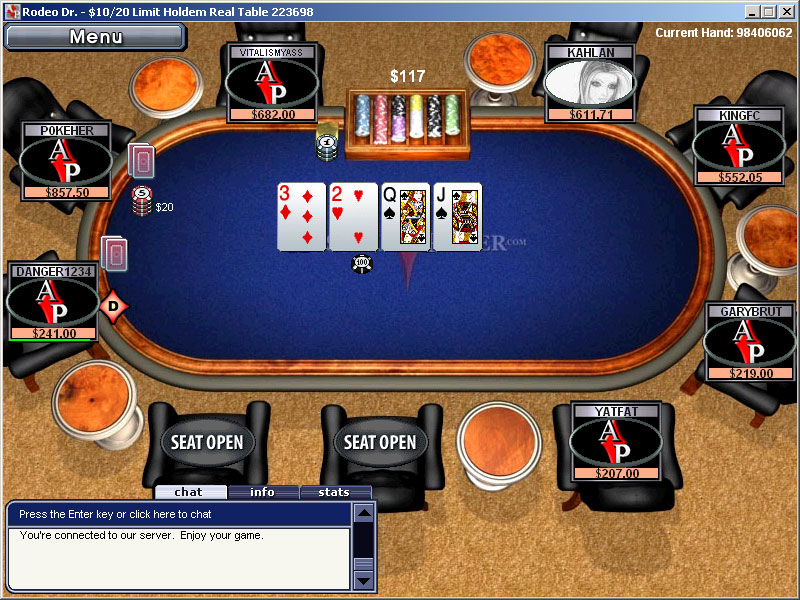 Overall Score:
Software Score:
Traffic Score:
Tournaments Score:
Soft Competition:
Sign Up Bonus Score:
Support Score:
Deposit/WD Methods:
Summary: Overall Score:

Absolute Poker is definitely one of the best online poker rooms out there. The software is pretty adequate but the graphics are somewhat lacking, especially from such a large poker network. Despite disappointing traffic numbers, Absolute Poker is definitely one of the most promising online poker rooms out there right now. Tournaments are being focused in the right direction, but Absolute Poker needs to start working on adding a wider variety of games as well. All in all, this is a worthwhile online poker room with a lot of potential and plenty of incentives and bonuses to take advantage of.
Hits
Misses

Special Freerolls, WSOP Freeroll
Cash Can Be Transferred to Friends
Call, Raise and Fold Hot-Keys
Personal Images of Players
Excellent Sign Up Bonus
Weekly Reloading Bonus
Refer a Friend Bonus
Many Tournaments Offered
Excellent FreeRolls
Texas Hold'em Heads Up
First Time NETeller Bonus
Excellent Gaming for Micro and Low-Stakes Playing

Software Graphics are Lacking
Not Many Options for Deposit or Cash Out
No Telephone or Live Chat
Not Enough Traffic
Traffic Unfairly Distributed
Software At Absolute Poker: Overall Score:

4/5
Most people agree that there is no real poker feeling to the Absolute Poker software. The graphics are a bit cheesy in nature, and the textures are all but visually appealing. Still, despite this miss, the software works well and gets things done. It is logical, and easy to navigate. Still, it is a little slow and not all together very intuitive, so this is an area where Absolute Poker could definitely use some improvement. Absolute Poker needs to find more ways to make its software stand out from other poker rooms if it wants to boost its regular player base.
Traffic At Absolute Poker: Overall Score:

4/5
Absolute Poker has a long way to go before it can be classified as one of the larger poker rooms online. Growth has been slow since its inception in 2003. Despite the acceptable variety of games, especially of Texas Hold'em, the traffic is not divided up well and some tables do not see enough action. High stakes players are not all together very common, and most of the action can be found in micro games and low stakes or $1/$2 games. At peak hours you may find around 1,500 ring game players, and slightly more logged in than this during tournament games.
Tournaments At Absolute Poker: Overall Score:

4/5
If you enjoy freeroll tournaments with no restrictions and other exciting tournament games, it would be worth checking out the rest of our Absolute Poker review. Absolute Poker may not have the most ideal traffic numbers, but during peak hours, rooms with low and medium buy ins can become quite popular. There are plenty of Sit & Go tournaments, multi table tournaments and much more to experience here. Absolute Poker has a nice variety of Texas Hold'em tournaments, along with tournaments in Omaha, Omaha Hi/Lo, 7 Card Stud, 7 Card Stud Hi/Lo and more. Absolute Poker also offers exclusive WSOP tournaments and free rolls. Huge cash prizes can be won in Absolute Reward Points which are offered to regulars during tournaments, making it well worthwhile to participate.
Game Variety At Absolute Poker: Overall Score:

3.5/5
Absolute Poker is definitely focused primarily on Texas Hold'em and tournaments for no limit, pot limit and limit games. You will also find Omaha poker, Omaha Hi/Lo, 7 Card Stud, 7 Card Hi/Lo and heads up poker. Texas Hold'em has the largest variety, offering fixed limit, no limit, limit and pot limit games with limits ranging from small micro levels up to $75 and $150. Visit Absolute Poker
Soft Competition At Absolute Poker: Overall Score:



2.5/5
There is an interesting Micro play experience and low stakes play experience here at Absolute Poker. Most people are playing in the lower levels, so people who normally play higher levels are also joining in, in the lower stakes games. There is a ton of action here, and you are likely to score quite a bit of money if you play your cards right. $2/$4 tables do offer up some tight competition occasionally, but this is slowly improving as well.
Sign Up Bonus At Absolute Poker: Overall Score:

5/5
Your first deposit can receive a bonus of 100% for up to $500 if you use the right promotional code. There are also occasional super bonus offers exceeding this offer. Every $10 requires 100 Absolute Reward Points or ARP points.
Loyalty Rewards At Absolute Poker: Overall Score:

4/5
There are some pretty decent loyalty bonuses being offered by Absolute Poker. Real money players can take advantage of collecting Absolute Reward Points, which are also known as ARP. You will receive different amounts of ARP points depending on the stakes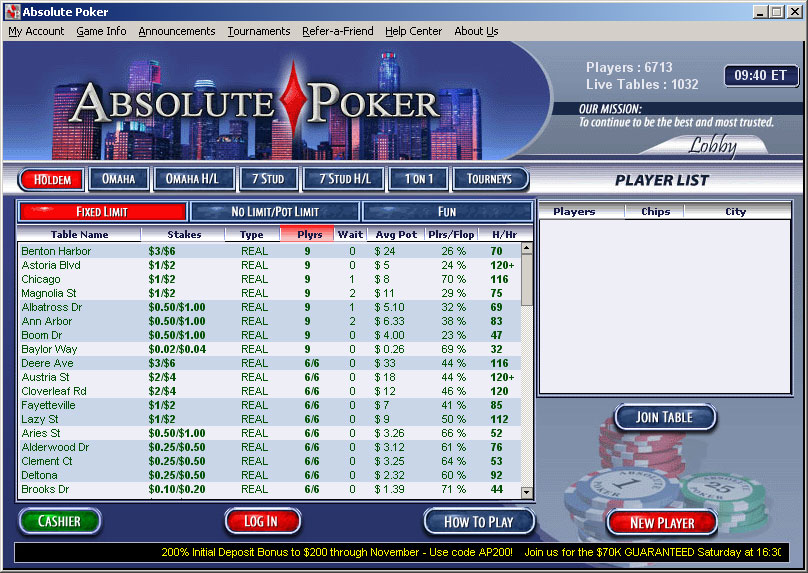 and the rakeback that you are generating. In order to receive one point you have to play in a limit of $2/$4 or lower, but as long as the rake collected is no less than $0.25. For $3/$6 or higher with a minimum of $0.25 rake collected you can receive two ARP points. These points can be redeemed for special tournaments, merchandise and freerolls as well. After playing 500 raked hands, an Absolute Reward Card will arrive by mail. This card will give you VIP access to all of the live tournaments hosted by Absolute Poker.
Promotions At Absolute Poker: Overall Score:

5/5
Referring your friends to the Absolute Poker online poker room definitely pays off, because after a successful referral you will find $100 in your account, and your friend will also get $50. To complete a referral, you have to have your friend deposit $50 to start, and they must play a total of 100 raked hands. There is also a unique NETeller bonus of $10 the first time you deposit or reload using NETeller. There are no restrictions to this promotion, you simply have to send Absolute Poker an e-mail with NETeller in the subject.
Support At Absolute Poker: Overall Score:

3.5/5
The only support offered by Absolute Poker is email correspondence. The response time, however, is worthwhile in the end because e-mails come back fast. The website also has a frequently asked questions section, but Absolute Poker would be better off with telephone or live chat support as well.
Deposit and Cashout At Absolute Poker: Overall Score:

4.5/5

Deposit methods include Credit Card, NETeller, FirePay, CentralCoin, Electronic Check, bank draft and wire transfer. Cashout methods include NETeller, FirePay and check.

Back to the homepage - Learn to win Texas Holdem Poker