pacific poker Review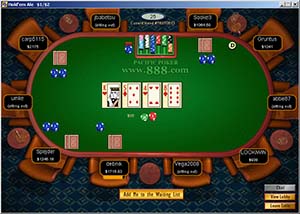 Overall Score:

4.5

/5
Software Score:

4

/5
Traffic Score:

3.5

/5
Tournaments Score:

4

/5
Soft Competition:

5

/5
Sign Up Bonus Score:

4.5

/5
Deposit/Cash out Methods:

4

/5
Support Score:

5

/5
Summary: Overall Score:

4/5
Pacific Poker is an online poker room that's part of the hugely successful Casino-on-Net. Pacific Poker offers up the standard online poker fare: Texas Hold'em, Stud, Omaha, and tournies. But now, you'll encounter a nicer, redesigned lobby, customization capability, and 3D avatars. This is probably the loosest poker site on the Net, so much so that if you know anything about Texas Hold'em and poker at all you may start to wonder if you're actually in a Go Fish tournie. If you can play tight but aggressive you can really "take home" some big money here. And the fishermen at Pacific Poker just go out of their way to put money into you bank account. Yes, it's that bad (or, if you are knowledgeable, that good). This place is just a lot of fun, too.
Hits
Misses

Software upgrades have significantly expanded user options.
So many bad players here that if you know anything at all about poker you can rake in the dough.
Incredible bonuses.
Multi-tabling which is great for high volume players.
A weekly $1000 Depositor Freeroll on Saturday afternoons for new players.
So much action that you can choose your games and bets with great care and still make a killing
Excellent customer service

Advanced players who don't have a burning need for the money will be bored and won't find much chance to improve their game.
Software: Overall Score:

4/5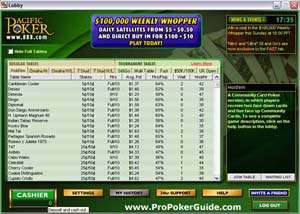 Pacific Poker used to get blasted for its, well, godawful software. There's nothing that can be a killjoy more than the feeling that you're playing poker online when you're playing poker online! Pacific Poker has really stepped up its software so that you are now getting that virtual poker reality feeling; you're not just sitting in your underwear with your nails unkempt on a Friday night--you're in Vegas or Atlantic City, or that little Western town in South Dakota! There's also No-download Java software, so you can play in this casino from anywhere.
You move along at a decent clip, too. You can expect 60 hands per hour.
Traffic: Overall Score:

3.5/5
It's quite busy almost 24/7 here at Pacific Poker, as the clientele are very predominantly North American and European. There's lots of action, so if you just can't get to sleep at night you know where to come. And there are so many fishies that you might decide to go into the Gorton's business and start selling fishsticks for extra money.
Tournaments: Overall Score:

4/5
Lots of players here, and this is the best way to find decent competitors. Five times per day there is a $15 buy-in $10,000 guaranteed tournament. Mondays see an additional $25,000 guaranteed event. Sunday sees a deep stack event featuring a guaranteed $100,000 prize pool, and every participating player gets to enter a $10,000 freeroll on the following Sunday.
Players with smaller bankrolls will find a good amount of low buy-in tournies that often attract a few hundred players so that you can get bang for your bucks. 20% of those who play in the $27 satellites win a seat at the weekly direct-entry tournie.
You can also find Sit 'n' Go tournaments as heads-up or five-seat formats. The blinds go up with every hand and you only get 10 seconds to decide what to do--so this is where you can find a lot of crazies who want to give you their money.
Game Variety: Overall Score:

3.5/5
The usual poker fare: Holdem, Omaha, Stud.
Soft Competition: Overall Score:





5/5
As we've pointed out, there are barrels of this. There might be as many as 50% of players seeing the flop! Well, to keep things in perspective, let's think about the fact that Pacific Poker is part of Casino-on-Net. You've got lots of people coming into the poker room whose usual game is Blackjack. You've got lots of people coming in to try their hands with Texas Hold'em who are used to tumbling dice and shooting the crap. You get people who are used to taking a dare and going "all in" in whatever format that entails. They don't often realize that poker is not a game where chance is all that matters. It becomes hard for them to get off the wheel mentality, and realize that poker is not Blackjack and isn't the roulette wheel.
Sign Up Bonus: Overall Score:

5/5
There's a 40% instant sign-up bonus. Other bonuses may be available if you sign up through specific sites.
Support: Overall Score:

5/5
Support: E-mail or telephone. The customer support at Pacific Poker is usually rapid. Some of the best we've found for online poker sites.
Deposit and Cashout: Overall Score:

4/5
NETeller, Citadel, checking accounts (E-Check), AVTeCASH, Laser, MoneyBookers, paysafecard, Solo, major credit cards, cashier's checks, and wire transfers for deposits. Payouts are confirmed via e-mail and you usually have them in no longer than 72 hours and often sooner than that.