poker time Review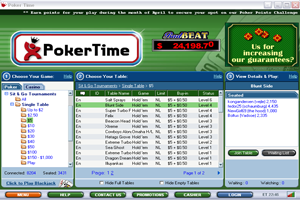 Overall Score:

4

/5
Software Score:

4

/5
Traffic Score:

4

/5
Tournaments Score:

4

/5
Soft Competition:

2.5

/5
Sign Up Bonus Score:

4.5

/5
Support Score:

5

/5
Deposit/Cash out Methods:

4.5

/5
Summary: Overall Score:

4/5
Poker Time is medium sized compared to most other online poker rooms. If you look at it in an overall capacity, it is definitely a good site, especially when it comes to games with no limit and lower stakes. The signup bonus that is offered for Poker Time is very unique, climbing as high as $1000 in bonus money for any player willing to make a deposit of $20 or more. The software that Poker Time uses is also very nice. The games run quickly and smoothly, and the software is very easy to use, intuitive and user friendly.
One strike against Poker Time is that the software provider they use is Prima Poker. Prima Poker can be a bit of a pest at times, with extremely tight security measures that can be a bit annoying for some players. Another note is that these extremely tight security measures do occasionally result in a player being unfairly blocked from the site with their account closed. This can be extremely annoying for players who did not deserve the banning, but it is an unfortunate consequence when security measures are tightened.
Hits
Misses

Unique Signup Bonus (Up to $1000 in Bonuses for $20+ Deposit)
Excellent Software, Fast and Friendly Interface
Offers Bonus Redemption Points (BRPs) for Merchandise, Tournaments
Utilizes Telephone Support as well as E-mail Support

Utilizes PrimaPoker, Not Always User Friendly
NETeller Withdrawals Only
Prima Poker Support Less Than Ideal
Software: Overall Score:

4/5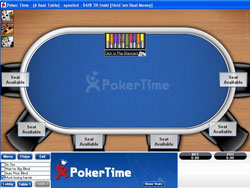 Although choosing Prima Poker as their software provider may have set Poker Time back in some regards, the software that this online poker room uses is definitely nice. The software is visually appealing and easy enough to maneuver through. There are plenty of options to take advantage of, and the games run quickly. The software definitely makes this room worthwhile to play at, as long as you can get a basic handle on the security features that make Prima Poker what they are.
Traffic: Overall Score:

4/5
Because of the range of games that Poker Time offers, and the variety of tournaments that are played on a relatively consistent basis, the traffic at Poker Time is definitely growing quite a bit for a medium sized poker room. You can definitely look forward to experiencing a wide range of different types of players, including pros and fish in just about equal amounts. If you are looking for a variety of competition in the form of large traffic numbers, Poker Time is definitely holding its own, though there are plenty of online poker rooms that see more traffic than Poker Time does.
Tournaments: Overall Score:

4/5
Poker Time offers a wide array of different tournaments including a $5,000 High-Roller Freeroll with prizes climbing as high as $200,000 or $250,000. Tournaments are offered in Texas Hold'em limit, no limit and pot limit, Omaha, Omaha High-Lo and sometimes in other games as well. Tournament buy ins range from $.75 up to $100 for single, and $1 and up for multi. The minimum deposits to participate in tournaments is only $20, and remember that this is enough for you to earn up to $1000 in bonus money as well just for signing up.
Game Variety: Overall Score:

3.5/5
As a medium sized room, the game variety that Poker Time offers is about average, with nothing terribly special, but nothing important lacking either. Ring games are offered, in addition to no-limit, limit and pot limit Texas Hold'em poker and Omaha Poker. Omaha Hi/Lo is also offered, as well as 7 Card Stud and 5 Card Stud. Ring games have a wide range of stakes, with fixed limit stakes ranging from $0.05 - $0.10 up to $100 - $200. No-limit and pot-limit stakes range from $0.05 - $0.10 up to $100 - $200 as well.
Soft Competition: Overall Score:



2.5/5
The competition that you will find in the Poker Time online poker room is really just about average. It used to be that you could find many soft games, but the competition is slowly increasing to become much harder now. No limit games are a lot more popular here at Poker Time than limit poker games are. There are a wide variety of no limit poker games to choose from with blinds ranging from $1-$2 or even lower. You will have considerably more difficulty finding good limit games to play, but if you are diligent, they are around.
Sign Up Bonus: Overall Score:

5/5
Poker Time offers a bonus of up to $1000 in money to any player making a real money deposit of $20 dollars or more. Players can earn this money by accumulating BRPs or Bonus Redemption Points. After the first deposit is made, up to 90 days are available for players to earn as many bonus dollars as they can.
Promotions: Overall Score:

5/5
In addition to the excellent sign up bonus, there are other promotions that Poker Time is known for running. They have an intriguing bad beat jackpot, and magic hand bonuses as well. There are also a number of interesting freerolls at any one time, including a $15,000 new deposits freeroll. If you like the Steps tournaments at Party Poker, the Poker Time Rounders tournament will be right up your alley.
Support: Overall Score:

5/5
Poker Time is passionate about customer support, offering phone line support as well as e-mail support. However, because Poker Time exists on the Prima Poker network, you may have to deal with Prima Poker for some support issues, which can be less than enjoyable at times. Most account issues are handled by Poker Time themselves, but the software issues are dealt with by Prima Poker, and Prima Poker has final control over every player's account.
Deposit and Cashout: Overall Score:

4.5/5

Deposit methods include most of the standard methods, including credit card and bank transfer. The only Cashout method is NETeller, and it can take much longer than usual at around 48 to 72 hours at a time. ID or proof of address is typically requested for a cash out because of Prima Poker's tight security measures.