Doyle's room Poker Review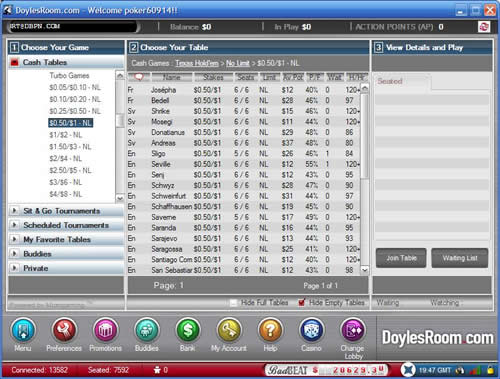 Overall Score:

4.5

/5
Software Score:

4

/5
Traffic Score:

4

/5
Tournaments Score:

4

/5
Soft Competition:

3.5

/5
Sign Up Bonus Score:

5

/5
Support Score:

5

/5
Deposit/Cash out Methods:

4.5

/5
Summary: Overall Score:

4/5
The previous incarnation of Doyles Room was based on software by Tribeca. Luckily, things have progressed significantly since then, since Doyle's Room is no longer limited to a rather small network. Doyle's Room is now part of Microgaming, possibly better known as Prima Poker. To a veteran of Doyle's Room, this is certainly a difficult experience, but the adaptation is rather effortless never the less. Little has actually changed when it comes to Doyle's room, and all of the same promotions are still in place. Doyle's room recently lost some of its tournaments, but there are plenty of new ones in place. There are also some excellent casino games bundled into the software, adding a bit of extra spice to the interface.
Hits
Misses

Sign Up Bonus: Super System II
Asian Poker Game Badugi is Included
Poker Room Avatars are Unique
Soft Competition Available
Fold, Call and Raise Hot-Keys
Player Notes
Solid Graphics / Visual Appeal
Numerous Freeroll Promotions
Numerous Support Options

Not Many Deposit or Cashout Options
Low Variety of Games to Play
Action Not Fairly Spread Out
Software: Overall Score:

4/5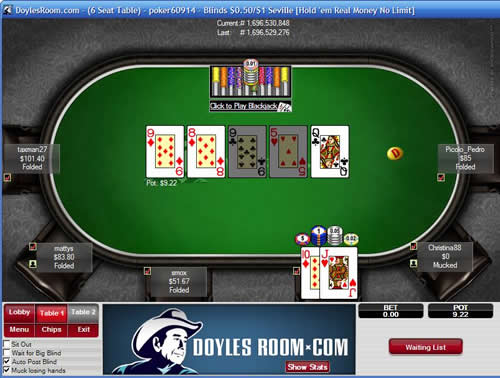 Doyles Room switched from Tribeca Tables to Microgaming, a much faster growing software base that is often known as Prima Poker. This hasn't brought much change to the average player in Doyle's Room, but the software interface is different, the network is growing much more quickly, and there are some fun casino games attached for added flair. The lobby has excellent folder style filters making it easy to find the things that you are looking for. The tables are easy to decipher, and the players can be distinguished easily. Doyle's Room also provides mini table views, player notes and many other options as well. The only real downside associated with this particular software interface is the registration process which is tedious, but worthwhile once you can begin playing.
Traffic: Overall Score:

4/5
During peak hours, there are around 30,000 players coming into the site, and Doyle's Room often sees even larger numbers of connections than this. The traffic is mostly in the no limit Texas Hold'em games, which is excellent if that is what you are looking for. Some competition can be found in Omaha games, with most of the traffic falling into the ring games.
Tournaments: Overall Score:

4/5
Doyle's Room offers a significant number of tournaments, especially for Omaha, Omaha Hi / Lo and Texas Hold'em. Single tournaments have a super low buy in of only $0.10, climbing as high as $100. Multiple tables have free rolls that require action points, and also offer buy ins of as high as $200. Unfortunately, Omaha and Omaha Hi / Lo do not see quite as much action.
Game Variety: Overall Score:

4/5
Most of the poker players in Doyle's Room are leaning toward Texas Hold'em, so the lack of variety here is not really an issue. In addition to Texas Hold'em and Omaha, Doyle's Room also offers 5 Card Stud and 7 Card Stud, and a unique Chinese form of Poker as well. Still, most of the players are leaning toward the more popular Omaha and Texas Hold'em, so variety is not normally much of an issue here.
Soft Competition: Overall Score:




3.5/5
You are not going to find the biggest selection of fish here, but you certainly will not be disappointed either when it comes to soft competition. The typical players in the Doyle's Room online poker room are below the average, but most of the fish in the Texas Hold'em tables are leaning toward lower stakes, or around $2/$4 at best. Flops are viewed around 40-45% of the time, which is definitely high in comparison to some poker rooms online.
Sign Up Bonus: Overall Score:

5/5
Use the sign up bonus code POKERNOW1 to receive your 110% bonus when you download Doyles Room from our site.
Loyalty Rewards: Overall Score:

4/5
You can accumulate Action Points in Doyle's Room through participation in real money games, including both single and multi table tournaments. Additionally you can also earn Action Points through other opportunities that you can redeem for prizes, cash, and special entry into certain tournaments. The Action Points are also based on rake sizes and any bet placed after the initial one.
Promotions: Overall Score:

5/5
The refer a friend bonus is only $25, and your friend must accumulate 2,500 action points before you can acquire the money. There is also an early bird cash game lottery, which is eight consecutive lotteries between 3am and 7am that will give you a chance to win as much as $1000. Doyle's Room also has various freerolls, some of which are available to all players while some others are only available to people redeeming action points.
Support: Overall Score:

4/5
The support offered by Doyles Room is definitely above average since they offer e-mail, telephone and live chat support. Response times are definitely faster than most, both on telephone and live chat. However, e-mails take many hours for responses, even half a day at times.
Deposit and Cashout: Overall Score:

4.5/5

Deposit methods include Credit Card, NETeller, FirePay and wire transfer. Cashout methods include Neteller, check and bank transfer.