Cake Poker Review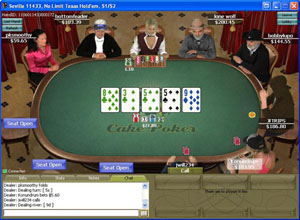 Overall Score:

3.9

/5
Software Score:

4

/5
Traffic Score:

3.5

/5
Tournaments Score:

4

/5
Soft Competition:

3.5

/5
Sign Up Bonus Score:

4.5

/5
Deposit/Cash out Methods:

4.5

/5
Support Score:

5

/5
Hits:
$250 Satellite into $50K Tournament
Can Win $52,000 Collecting "Gold Cards"
Photographed Models Used For Avatars
Excellent Table Software, Visually Appealing
Soft Competition in Medium Stakes Games
Fast-Claimed Bonus worth $500 Dollars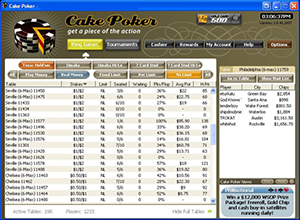 Misses:
Very Low Traffic, Though Due to Improve
No Telephone Support / Live Chat Support
NETeller Only Option for Cashing Out
Summary: Overall Score:

4/5
Cake Poker only recently entered the world of online poker, in 2005 to be exact. The growth since this point has been mediocre at best, however the team at Cake Poker does have excellent ambitions, and if they play their cards right they will be able to achieve outstanding things. Right now the traffic is still relatively low, but quality tournaments are being developed which will positively effect traffic in big ways. The traffic is pretty ordinary, with Cake Poker offering Omaha poker, Texas Hold'em poker and 7 Card Stud primarily. With their Gold Card Lottery, you can do some decent collecting, so if you are interested in merchandise or the chance to win $52,000, it may be worth checking this feature out. Cake Poker certainly has potential as far as online poker rooms go, but if you are looking for serious traffic, this isn't the best place to get started.
Software: Overall Score:

4/5
The software that Cake Poker uses is essentially as realistic as you can get without going overboard with the 3-D feeling. The first thing that you are going to notice is that every avatar is actually a photographed model. The graphics themselves closely resemble what is normal at Poker Room, but with a much, much greater variation. You can easily choose between several different avatars, and you can allow them to sit in any chair. Other features of this particular online poker room include player notes and various visual customizations. In the lobby there has been some significant improvement since the software originally launched, which is a nice touch. When the software first launched it was certainly lacking in functionality and visual appeal, but it has really come around with time and has matured significantly since its inception.
Traffic: Overall Score:

3.5/5
Every new room that uses proprietary software and a closed up network requires some significant growth before the user traffic is really satisfactory. During the room's peak hours, Cake Poker can see more than 2000 players connected. Unfortunately, if your desire is a large amount of traffic flow, Cake Poker isn't the online poker room for you. Of course this doesn't mean you won't see action, but rather simply that you may notice more familiar names than you ought to at certain high and medium stakes games.
Tournaments: Overall Score:

4/5
Despite the low flow of traffic, Cake Poker still puts a great deal of effort into their tournaments, offering Satellites and cash prizes as well. Sure, Cake Poker has a long way to go before it offers the same tournament parallels as Poker Stars, but if you are a casual poker tournament player, the number of tournaments hosted by Cake Poker should absolutely be sufficient.
Game Variety: Overall Score:

3.5/5
Cake Poker offers what is regarded as the typical poker game line up. The most prominent offering is Texas Hold'em with no limit, pot limit and fixed limit options. Here you will also find Omaha poker, Omaha Hi/Lo, 7 Card Stud Hi/Lo and traditional 7 Card Stud. We hoped to see turbo action, but it was not available.
Soft Competition: Overall Score:




3.5/5
New poker rooms are generally great at attracting loose players who fit right into the fish category without difficulty. The most common players in the Cake Poker online poker room are absolutely no exception to the rule. Even the $1/$2 buy in tables reveal as many as 60% or more players per flop. Low stake play is also very loose, though never more than around 80% or so.
Sign Up Bonus: Overall Score:

5/5
Cake Poker definitely has a decent sign up bonus, totaling as much as $750, along with a deposit match as high as 100% which is exceptionally easy to nab. Cake Poker also often offers freerolls for new members who sign up, some of which offer some pretty worthwhile prizes.
Loyalty Rewards: Overall Score:

4/5
Cake Poker does have a unique loyalty reward program called Gold Card Lottery. This is basically a small number of golden cards that are handed out to players participating in real money ring games and Cake Poker tournaments. If you receive one of these gold cards in the lottery, it can be later redeemed for merchandise or tournaments. If you keep them and collect them, you can have a chance at winning $52,000, but this takes collecting all 52 individual cards. Cake Poker also hands out frequent player points called cake slices, which are earned by participating in real money play. The more money you make, the more rewards you will receive in the process.
Promotions: Overall Score:

5/5
You can win one of Cake Poker's one-percent shares, giving you a piece of Cake Poker for life in the form of Cake Gaming N.V., which is done through tournament play and could potentially be worth millions of dollars some day. Additionally, Cake Poker offers freerolls and friend-referral programs.
Support: Overall Score:

5/5
Cake Poker does offer a basic FAQ section along with efficient e-mail support. Replies are fast and informational, which more than makes up for the fact that Cake Poker does not offer phone or live chat support.
Deposit and Cashout: Overall Score:

4.5/5

Deposit methods include NETeller, InstaCash, Visa, MasterCard and Visa Electron. Cashout methods are NETeller only.