true poker room review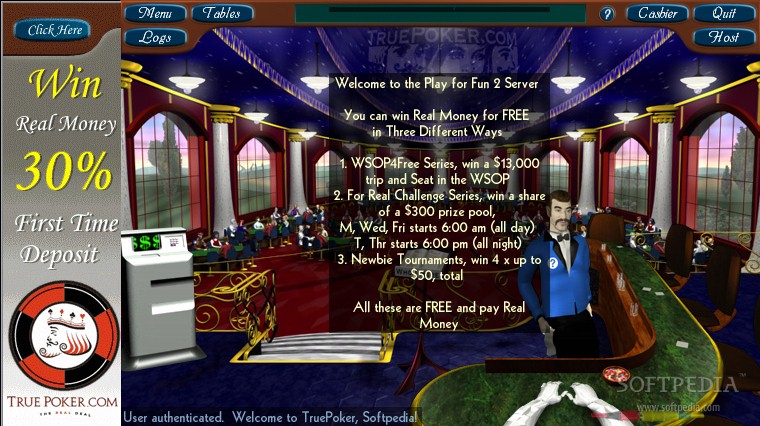 Overall Score:

3.5

/5
Software Score:

5

/5
Traffic Score:

3.5

/5
Tournaments Score:

3

/5
Soft Competition:

3.5

/5
Sign Up Bonus Score:

4

/5
Support Score:

3.5

/5
Deposit/Cash out Methods:

4

/5
Summary: Overall Score:

3.5/5
True Poker is an online poker room that is probably best known for the state of the art graphics that it offers. It is also gaining popularity for being a dying breed in that True Poker still offers service to citizens of the United States, which is difficult to find these days. In comparison to other online poker rooms and sites, the avatar details that True Poker offers are certainly far beyond what most are offering, with great improvements over the outdated standard avatar options. While the software is quite advanced, it does not slow anything down, even when players take advantage of multi-table access.
If you are looking for the best possible visual software experience, then you will find a significant improvement in your game experience thanks to actual avatar movements and 3D graphics. True Poker also offers strong bonuses for fair stakes players, and plenty of soft competition to take advantage of. While True Poker is only really a niche online poker room right now, it does show potential, especially with an increase in traffic and promotions over time.
Hits
Misses

Outstanding Graphics, Beautiful Software
Bonuses are Easy to Learn
Smaller Tournaments
High Range of Limits
Decent Selection of Deposit Methods
Plenty of Soft Action

Traffic Isn't Enormous
Slim Variety of Promotions
Slower Than Average Support
Game Selection is Slim
Software: Overall Score:

4/5
The software offered by True Poker is one of the best reasons for why you should check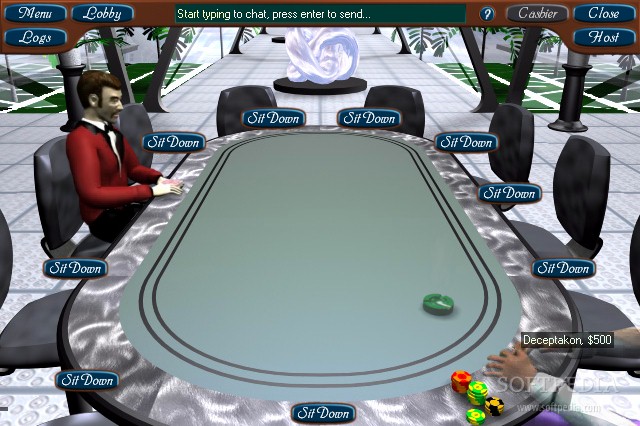 out this online poker room. Because many iPoker sites are losing their advanced engines, the True Poker online poker room definitely has the best graphics for US Players. New 3D avatars are consistently added, and now you can choose a variety of different avatars including everything from a cowboy to a robot or an alien. The backgrounds on the True Poker site are highly detailed, and the graphics greatly enhance the overall playing experience.
The Lobby in the True Poker online poker room is extremely easy to navigate, and provides enough basic information on each table that you know what you are getting into before you enter one. The entire table environment is rendered excellently, and is highly recommended as a result. It would be well worth your time and effort to download the high resolution version, because it does not bog down your game speed but presents an even greater game play experience.
Traffic: Overall Score:

3.5/5
The traffic to True Poker has increased significantly in ring games ever since low limit tables were introduced, but traffic to True Poker overall still has not become enormous. Still, you will usually find a handful of different games running on an around the clock basis. There are not many tournaments offered, but the occasional guaranteed prize pool event is enough to keep players coming back for more.
Tournaments: Overall Score:

3/5
True Poker's tournament traffic is relatively low not only because total traffic is low overall, but also because this poker room's tournament offering is not fully developed. Currently True Poker is hosting World Series of Poker satellites and $5,000 free roll tournaments for the top players every month. This tournament has a heads up format, which is nice. There is another weekly tournament that offers a $6,000 guarantee and is hosted on Sundays. While this may not be an enormous prize pool, it also means there are less opponents coming up against you for the money. Every half hour there is a tournament with $20 to $50 buy-ins, and a popular nightly free roll with a limited field because player points are needed in order for you to qualify.
Game Variety: Overall Score:

3/5
The game selection offered by True Poker is fairly limited, with most play occurring in Texas Hold'em and Omaha. An increase in traffic may come with an increase in game styles, but right now all of the traffic is distributed well between Texas Hold'em and Omaha poker.
Soft Competition: Overall Score:




3.5/5
While True Poker did not traditionally offer tables with micro limits, they have recently added no limit full ring games with $10, $25 and $50 buy ins. This is an excellent opportunity for low limit players, as well as for players who don't want to risk much of a buy in when getting started. The skill level varies significantly from one table to the next, but competition tends to be weak but slightly aggressive in general. The average flop percentage for a full no limit ring game can easy reach as high as 50% or 60%.
Most traffic tends to follow smaller games, and the opponents playing at this level are fairly easy to beat. Pots can reach really incredible proportions very quickly, with 60-70 times the big blind being a common pot amount. Play only your premium cards because most players are not going to be willing to let you in on a cheap flop but occasionally. Maniacal players run rampant on True Poker, so expect to find plenty of loose aggressive competition here.
Sign Up Bonus: Overall Score:

4/5
The promotional offerings are still relatively slim as True Poker works on developing itself. There has been a recent improvement in their sign up bonus however. Now you can get a 100% sign up bonus up to a deposit of $200. Each $10 of your bonus will be converted into cash by playing 100 raked hands, which is a relatively standard requirement. Lower stakes players may have difficulty seeing this bonus, but medium to high stakes players should be just fine.
Loyalty Rewards: Overall Score:

3.5/5
Loyalty bonuses and rewards are relatively slim at current, but True Poker does offer a player points system that gives Bronze, Silver and Gold rankings for play in tournaments and ring games. By achieving one of these statuses, players can be allowed to enter into special free roll games, most of which that offer fairly sizeable prize pools.
Promotions: Overall Score:

4.5/5
True Poker offers a $2,500 dollar bonus pool for the top players in fixed limit games, as well as a $40,000 tournament intended for top leader board players. In addition to the deposit bonus offered by True Poker, you also have a football promotion that allows you to predict who will score the most points during an NFL week. True Poker is also beginning to offer satellite tournaments intended to get players into the World Series of Poker. There is also a $5,000 heads up free roll intended for the top players on the site every single month. Players can also participate in a beginner's Sit & Go tournament where winner takes all for only $50.
Support: Overall Score:

3.5/5
The customer service and support offered by True Poker has certainly been slower than what the average poker room offers, and support is offered exclusively through e-mail. Telephone number support has recently been offered, though it is not always open, and it is not a toll free support line.
Deposit and Cashout: Overall Score:

4/5

Deposit methods include ePassporte, electronic transfer or cashier's check. Cashout methods include ePassporte if you used it to deposit or courier check via UPS.