poker host review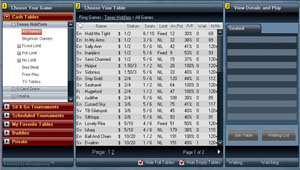 Overall Score:

4.1

/5
Software Score:

4

/5
Traffic Score:

3.5

/5
Tournaments Score:

4

/5
Soft Competition:

3.5

/5
Sign Up Bonus Score:

5

/5
Support Score:

5

/5
Deposit/Cash out Methods:

4.5

/5
Summary: Overall Score:

4/5
Poker Host has definitely seen a number of major changes recently, resurfacing as what is essentially a completely, brand new poker room. They have settled on the use of the Prima Microgaming network, which offers numerous different skins. By joining such a large network, Poker Host has opened itself up to the ability to offer numerous tables at every limit mark, as well as the ability to offer a busy and bustling tournament schedule. Poker Host has definitely seen numerous improvements, including an improved upon interface, visually appealing software and significantly improved backend, all of which have come a long way since the old network.
Poker Host may simply be a skin, but this online poker room does offer a variety of unique promotions, including a rather large bonus for first time deposits, and free subscriptions to "Bluff Magazine" for brand new players. Poker Host also has a leader board that offers bounties and prizes for the top level finishers. If you are looking for an online poker room on a stable network that offers unique promotions and a busy schedule of tournaments, Poker Host is well worth checking out.
Hits
Misses

Trusted Network
Quick Cashout
Visually Appealing and Competent Software
High Level of Fish, Plenty of Action
Minimum Deposit Only $20
Large Maximum Bonus Amounts (Up to $2,000)!
IDC Prepaid Card Deposit Method, 7-11 Cash Transfers

Some Deposit Methods Difficult for US Players
Too Many Fish for Some, Many Sub-par Players
Software: Overall Score:

4/5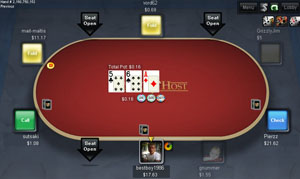 The software that Poker Host uses may not be all together very original when it comes to the graphic interface, but it also appears to be pretty clear of noticeable flaws. By moving over to the Microgaming client, Poker Host has improved significantly. Taking advantage of a rich red color creates a visually pleasing interface, with a standard overhead view of the table. There are a number of positives that come with this particular piece of software, including an excellent color coded system and a great game speed. The cards are dealt quickly and there is no real lag to speak of between the hands. The lobby is well organized and offers excellent information and options.
Traffic: Overall Score:

3.5/5
Overall, you should have absolutely no trouble finding both full and shorthanded ring games at any time and at any limit, as well as both in Texas Hold'em no limit, and limit play as well. This is one of the largest poker networks that you can find yourself playing in, and is comprised of literally dozens of different poker rooms. The traffic here is definitely established, as Poker Host is reaping the benefits of remaining open to US players even as other poker rooms close to them. When it comes to tournaments, for example, you can expect busy play with plenty of events, and tables overflowing with players at all hours of the day or night.
Tournaments: Overall Score:

4/5
One of the greatest draws when it comes to Poker Host is its tournament traffic. Poker Host runs one of the largest weekly tournaments as long as numerous daily tournament guarantees. The Buy-in for the Sunday biggie is only $50 dollars buy has a guarantee of $200,000. Poker Host also offers a number of guaranteed tournaments throughout the week, some of which have a buy in of $20 or less and a guarantee ranging from $1,200 to $20,000 depending on the day.
Game Variety: Overall Score:

3.5/5
At Poker Host you are going to find the standard fare in terms of game variety, including Texas Hold'em no-limit, limit and pot limit, Omaha and Omaha Hi/Lo, 7 Card Stud and 7 Card Stud Hi/Lo.
Soft Competition: Overall Score:




3.5/5
Poker Host definitely does not have a terrible player base, but the fish in this online poker room tend to be a new breed all of their own. The play you will find in no-limit ring games is generally fairly loose passive. Many of Poker Host's players have a tendency to make calls that are weak, which means slow playing a monster hand is pretty much useless, as is attempting to trap using big pocket pairs. Many of the full ring games in Poker Host have flop percentages exceeding 40% even at $1/$2 and when the pot sizes are pretty good. There are plenty of gamblers here who are more than willing enough to over commit to the pot. With the right strategy, the competition at Poker Host can be quite profitable over time.
Sign Up Bonus: Overall Score:

5/5
One of the things that makes Poker Host unique to the rest of the poker rooms in the network is the site's massive bonus for signing up, which is $100% on the initial deposit made for as much as $2,000. This can be especially huge for larger bankrolls and players who enjoy the higher stakes games. Even if you only deposit the minimum amount of $20, you will still receive the 100% bonus which is certainly noteworthy.
The bonus offered by Poker Host is worked off through playing in raked hands.
Promotions: Overall Score:

5/5
New players receive a free subscription of 12 issues of Bluff Magazine as long as a deposit of $100 or more is made. Another popular promotion offered by Poker Host is called "Magic Hand", and is a bonus that allows players in a specific hand to split up $2,500. Poker Host also has a bad beat jackpot which can easily add up to several thousand dollars or more.
Support: Overall Score:

5/5
Here we have a rare breed indeed, a poker network that offers live chat support! E-mail is almost completely unnecessary for support because Poker Host offers a live chat option that allows you to chat with a manager within about five minutes after requesting assistance. Another respectable detail is the fact that the Poker Host phone number is published on the website for support purposes.
Deposit and Cashout: Overall Score:

4.5/5

Deposit methods include NETeller, Instacash, e-check, checks and major credit cards. Cashout methods include cash transfer and the exclusive prepaid (IDC) ATM card offered by Poker Host which allows money to be withdrawn directly from an ATM or used as a debit card for free.