Noxwin Poker Room Review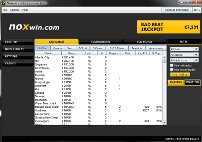 Overall Score:

4

/5
Software Score:

4

/5
Traffic Score:

3.5

/5
Tournaments Score:

4

/5
Soft Competition:

3.5

/5
Sign Up Bonus Score:

4.5

/5
Deposit/Cash out Methods:

4.5

/5
Support Score:

5

/5
Summary: Overall Score:

4/5
Noxwin runs a professional gaming portal that offers a great combination between support and care for every player on the site. One of the best aspects of the Noxwin experience is its 250% sign up bonuses up to an incredible €1500, which is the highest deposit bonus currently offered on the entire Entraction network. Every month loyal players can get as much as 60% cash back as well, which is an excellent bonus for players who remain true to the Noxwin gaming portal.
Noxwin offers a great deal of no-limit Texas Hold'em poker action, along with a number of other exotic poker varieties including Amerikana, Soko, Telesina and 5 Card Draw. Noxwin is also known for offering a number of special tournaments and leader boards which makes this a unique and interesting gaming portal to play in.
The traffic offering by Noxwin is still quite varied, with the level of player expertise offered in the Entraction gaming network appearing as somewhat of a mixed bag. Still, there is a high percentage of players that play quite a tight game of poker. If you are a loose aggressive player, then tables like these can be absolutely heaven for you, especially when it comes to Texas Hold'em no limit tables.
Hits
Misses

$250 Satellite into $50K Tournament
Can Win $52,000 Collecting "Gold Cards"
Photographed Models Used For Avatars
Excellent Table Software, Visually Appealing
Soft Competition in Medium Stakes Games
Fast-Claimed Bonus worth $500 Dollars

Very Low Traffic, Though Due to Improve
No Telephone Support / Live Chat Support
NETeller Only Option for Cashing Out
Software: Overall Score:

4/5
The software that the Noxwin online poker room uses is definitely user friendly, smooth and simplistic. There are usually eight-play tables, except in certain fixed limit Texas Hold'em games where there are 10 players to a table instead. These larger tables are designed to accommodate more players to drive more action in each of the games. You can play at numerous tables at a time, and take advantage of a lot of great features in the process including statistics, player notes, player search and numerous other things that you can do while waiting for other players to make their moves in the big pots.
Traffic: Overall Score:

3.5/5
During peak hours in cash games, Noxwin sees as many as 1500 players. During tournaments and free rolls, Noxwin can attract as many as 8000 connections at a time. There is decent traffic both in fixed limit and no limit Texas Hold'em games. Omaha tables also attract a fair bit of traffic in most levels of play. If you are looking to try out other games including 5 Card Draw, Soko and Telesina with traffic ranging in most levels. Although Noxwin is open to US players, its primary player base is in Europe, so peak time is generally in the evenings CET
Tournaments: Overall Score:

4/5
Noxwin offers a variety of different poker tournaments to play in, including private tournaments, free rolls, satellite tournaments and more. Every month more than 1 million Euros are given away by Noxwin in tournaments, so there are a variety of different tournaments with a wide spectrum of guaranteed prize pools to participate in. You can also play in qualifying tournaments for WPT, EPT and WSOP tournaments, with qualifiers for these tournaments running all around the clock.
Game Variety: Overall Score:

3.5/5
Most of the game play centers around Texas Hold'em, but Omaha and 5 Card Draw are offered along with some more exotic games like Amerikana, Soko and Telesina. Texas Hold'em players interested in no-limit and fixed limit will certainly feel at home here.
Soft Competition: Overall Score:




3.5/5
The competition is quite varied at Noxwin, though there is no shortage of soft competition if that is what you are looking for. You will find the Noxwin online poker room to be heaven if you are a loose aggressive player looking for a good time.
Sign Up Bonus: Overall Score:

5/5
Noxwin is celebrating this summer with an incredible 250% sign up bonus up to a maximum deposit of €1500. You will need to earn 10 points for every €1 that you have, with 1 point being awarded for each €0.40 contributed in the rake. Whenever you bet real money you will be contributing to the rake. There are numerous bonuses to choose from:
--Deposit €600, get 250% Bonus, €1500! Use the bonus code: NoxPro1500
--Deposit €100-€1000, get 250% Bonus, max. €1000 Use the bonus code: NoxPro1000
--Deposit €20-€400, get 100% Bonus, max. €400! Use the bonus code: NoxStarter
--Deposit €2-€200, and get 100% Bonus, max. €200! Use the bonus code: NoxPro1500
Loyalty Rewards: Overall Score:

4/5
As a loyalty reward, Noxwin offers up to 60% cash back on a monthly basis, but this is the only loyalty reward that Noxwin is currently offering to its players.
Promotions: Overall Score:

5/5
Noxwin has plenty of tournaments going on all the time with guaranteed cash prizes. Noxwin's sign up bonuses are some of the best offered, with 250% return up to €1500. There are plenty of promotions to take advantage of including qualifiers for top poker tournaments like the World Series of Poker, World Poker Tour and European Poker Tour. There is no shortage of promotions to take advantage of at Noxwin.
Support: Overall Score:

5/5
The best way to contact customer support at Noxwin is to e-mail their customer support team at support@noxwin.com. Support is offered 24/7 and response times are super fast.
Deposit and Cashout: Overall Score:

4.5/5
Deposit methods include: Deposit options: Credit Card / Debit Card Deposits Moneybookers NETeller WebMoney Bank Transfer
Cashout methods include : Refund to your Credit Card / Debit Card Bank transfer Check NETeller Moneybookers WebMoney