Famous Poker players: Phil hellmuth
Famous Poker Players » Famous Poker Players: Phil Hellmuth
Among professional poker players, one of the most famous poker players of all is "The Poker Brat", Phil Hellmuth. Originally hailing from Madison, Wisconsin, Hellmuth began his enviable poker career by dropping out of the University of Wisconsin at Madison.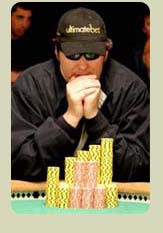 The Poker Brat became the youngest World Series of Poker (WSOP) Main Event champion ever in 1989 at the age of 24--and he defeated professional poker player legend Johnny Chan to do it. A saying of Hall of Fame pitcher Dizzy Dean definitely applies to Hellmuth: "It ain't bragging if what you say is true." Hellmuth has his nickname because of his ego and cocksure attitude--and also because of his temper. He is known for making cutting remarks about the (lack of) skill of his opponents after he loses. One of this famous poker player's famous lines is, "If luck weren't involved, I guess I'd win every one."
Nevertheless, it ain't bragging if what you say is true. In addition to his convincing youngster WSOP championship against one of the very best, in 1996, Hellmuth's fellow elite professional poker players voted him the "best all-around tournament poker player in the word." Hellmuth wears an amazing 11 WSOP bracelets and has won over 50 major poker tournies including in Texas Hold'em and Seven Card Stud. The Poker Brat is also a poker icon.
That's not to say his attitude problem hasn't made for some amusing moments. Hellmuth had to shave his head bald in 2002, after saying he would do exactly that if he lost the WSOP to Robert Varkonyi--who, in fact, did beat the Brat that year. (The fact that a "brat", pronounced as if there's an "o" instead of an "a", is also one of Wisconsin's most beloved and fattening foods might also have to do with the iconic one's nickname.)
Hellmuth is also a shrewd businessman. He endorses and has developed a signature series of sunglasses for Oakley (the sunglasses that Chris Moneymaker calls "way too expensive"). He is the author of 'Play Poker Like the Pros', 'Bad Beats and Lucky Draws', and 'Texas-Hold'em'. Hellmuth has also written an autobiography called--yes, you guessed it--'Poker Brat'. And, he's got an Internet poker game that can be downloaded to your iPhone or other PDA.
By his estimates, Hellmuth's poker-related income is $400 million a year. Now, if you were making that kind of money and and were a famous poker player whose career was built on playing a game, you'd probably be a brat, too!
But, although he's a brat and a globe tourer, Hellmuth is also a devoted family guy. He lives with his wife Kathy and his two sons in Palo Alto, California these days. Yeah, those Madison Winter blues drove him away, it seems.
You can find Phil Hellmuth playing in the high stakes games at UltimateBet along with other professional poker players. If you want to watch the Brat at and signing up a new player account. You can also play against Phil Hellmuth and UltimateBet.com other famous poker players if you've got the bankroll. They're typically found at large buy-in tournaments and the $10,000 max No-Limit virtual tables. UltimateBet's
Exit Famous Poker Players: Phil Hellmuth » Learn Texas Holdem