Daniel Negreanu History, profile, and background
Kid Poker Daniel Negreanu is one of the greatest of professional poker players--who started out in poker by losing his entire bankroll. But, after his initial losses, he became the youngest ever winner of a World Series of Poker (WSOP) bracelet at the age of 23 when he took the title of champion at the 1998 2,000 Pot Limit Hold'em Main Event in Las Vegas. But even before that, he triumphed at the 1997 Pot Limit Hold 'Em event in Foxwoods (playing in both the $100 and $1500 events) and got named "Best All-Around Player". Kid Poker is now one of the world's famous poker players even as he is just in the prime of his younger years.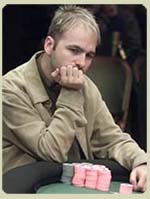 Daniel Negreanu was born in 1975 in Toronto, Canada, to his parents Annie and Constantin, who emigrated to Canada from Romania in 1967. They always told their children to follow their dreams no matter what.
So that's what Daniel Negreanu did--but before he sought to become one of the world's great professional poker players, he was a pool hustler. He eventually decided, however, that reading other people and dealing with the fate of dealt cards was more of a challenge than reading a pool table's grain. So he dropped out of high school (when he need just one more credit to graduate) to pursue his dream--by playing in illegal poker games. He first went Las Vegas to become a professional when he was just 21 years old. Today it's estimated that Kid Poker has won nearly $10 million.
Negreanu's other huge tournament wins in poker thus far include taking first place at: the Championship Poker at the Plaza ($10,000); the No Limit Hold'em Borgata Poker Open ($10,000 No Limit Hold'em); The Five Diamond World Poker Classic II ($15,000 No Limit Hold'em). In 2006, Kid Poker won himself a cool $755,525 at the Jack Binion WSOP Tournament Circuit-Grand Tunica $10,000 No Limit Hold'em event.
At the World Poker Tour Festa Al Lago at the Bellagio in Las Vegas this year (2008), Kid Poker was the ultimate winner at the end of Day 2 with over $500,000 in winnings.
Daniel Negreanu has become of the world's greatest professional poker players through his seemingly preternatural ability to read other people. He possesses a remarkable mixture of calculation skills and intuition, and easily has one of the greatest post-flop poker games on the planet.
You can get a feel for Kid Poker's skills in the video game Stacked
, which features 3D interactivity and a real-time environment. You can also find Negreanu online at PokerStars.
Besides being of the world's famous poker players, Negreanu is also something of a writer. He contributes to "CardPlayer" magazine as a regular columnist, and Daniel Negreanu has authored the book 'Power Hold'em Strategy
'.
Exit Famous Poker Players: Daniel Negreanu » Learn Texas Holdem