Amarillo Slim History, profile, and background
Amarillo Slim may be the most colorful character among all of the world's famous poker players. Slim probably has done more than anyone else (along with his friend Doyle Brunson) to make professional poker players acceptable, cool, and capable of being true celebrities. Slim and Brunson drove poker from out of the seedy, dangerous smoke-filled rooms of tiny Texas saloons and onto the world stage of Las Vegas and beyond.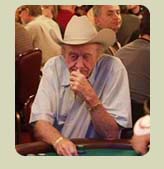 Tall and gangly and built like a "Texas toothpick", Amarillo slim is more than just one of the world's famous poker players. He has been a highly successful professional poker player, but there exist a good number of famous poker players who are more accomplished than he is when all' said and done. But you see, Amarillo Slim is more than just a poker player. And he has been called the greatest gambler in the world. He is a multimillionaire who has never held a "real job" in his very soon to be 80 years of existence.
After serving in the military, Slim met up with Doyle Brunson in Texas and they started a bookie business. This wasn't legal in Texas, however, so they had to find something more honorable to do. They decided that this should be what was back then the very risky business of playing poker, and the pair of cowboy hat wearing sucker-spotters would travel all across Texas putting bread in their mouths from gambling winnings that they earned by playing in those aforementioned seedy, smoke-filled saloons.
Over the years, Doyle Brunson became more of a committed poker player than Amarillo Slim. But Slim's pride got to him when he watched Johnny Moss win the first two World Series of Poker tournaments in 1970 and 1971, so he decided he needed to show the world who was the best. And in 1972, that's exactly what he did, and won his first WSOP bracelet and the grand prize. He has gone on to collect four WSOP bracelets.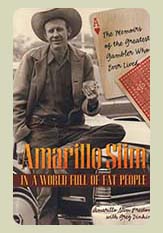 But Amarillo Slim has made lots of money on other gambles. He has beaten world pool champion Minnesota Fats while using a broom as a pool cue (Slim in fact became the youngest ever World Billiards Champion at the age of 16 many, many years ago). He has also allegedly hustled Columbian drug lord Pablo Escobar at cards, and this might have been what prompted the drug lord to kidnap Slim from a casino in Cartagena and strip him naked, bind him, and fly him to Medelin in the mid-1990s. Clearly, Slim escaped with his life, but only narrowly. Amarillo Slim has even played poker at the same table as former U.S. Presidents Lyndon Johnson and Richard Nixon.
These days, Amarillo Slim doesn't play poker much in public, and spends his time tending to his fast-food restaurants and pizza parlors in Texas. In 2003, a grand jury found the husband of 53 years with three children guilty of indecent acts with his granddaughter and his reputation among other professional poker players suffered as a result. "Nobody is always a winner, and anybody who says he is, is either a liar or doesn't play poker," he likes to say, and with the judgment that was proven true. However, this member of the world's famous poker players and author of Amarillo Slim in a World Full of Fat People: The Memoirs of the Greatest Gambler Who Ever Lived has taught the world how to live an exciting, abundant life by understanding human nature and playing games as a career.
Exit Famous Poker Players: Amarillo Slim » Learn Texas Holdem Poker